Selected and matched Tone Caps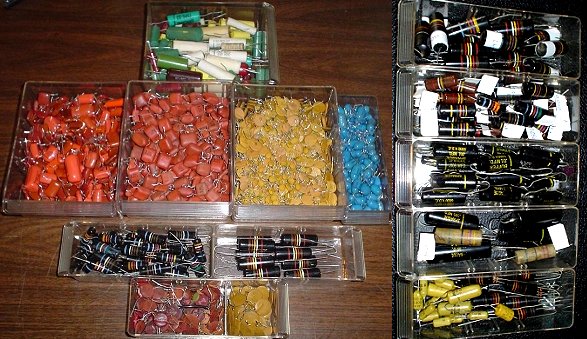 All tone caps have two things in common: they will affect your tone, even if the pot is fully opened and normally the factory stock values are way to big for normal human beings ;-) So it's always a good idea to experiment with them and that's exactly what we did - spending countless hours to try different caps ! The value is always a matter of taste, if you want the stock values and you like them .... ok, some smaller values will also do the trick and will give you more flexibility. My favourite value for all singlecoil guitars is 4700pF and 3300pF for all humbucker guitars, give it a try and you will discover how useful a tone control can be.
If you want to find out more about tone caps in general, please have a look at our tone cap column, part 1 and tone cap column, part 2, that had been published in the "Premier Guitar Magazine" in the March and April 2008 issues.
You can see and hear a lot of our tone caps (NOS and new) by clicking ==> H E R E <== Thanks to our friend Roberto for his work and this really cool must-see vids.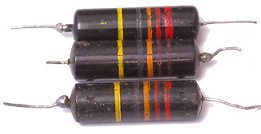 Bumblebee workalike caps: (SKU: bbwc)
The old Sprague "Black Beauty" and "Bumblebee" caps from the 50īs shown in the left pic, are the holy grail of tone and indeed there is something magical about them, they will color your tone in a very beautiful way, especially in a good Les Paul guitar. You can also use them inside any other guitar. Even Fender used similar caps in the early days but from a different manufacturer. So it's up to your choice - you can spend a lot of $ to get some original old caps that lost their values with the years or you can use the caps we recommend for only a few bucks. They are made EXACTLY the same way as the old bumblebees and you can almost hear no difference between them and the original. So you can say they are identical but not 40 years old :-) If you want a matched pair of any value or a mixed pair of two values - no problem. A matched pair will give you a much more balanced sound than two standard caps with horrible tolerances. All caps from us are highly selected with almost no tolerances and tested for tone inside a guitar. They sound best with the original 50's wiring as shown in the Les Paul project . If you want to see some original bumblebee advertisements from the 50's please click here.
Available Values:
| | |
| --- | --- |
| 1000pF | 0.01uF |
| 1500pF | 0.015uF |
| 2200pF | 0.022uF |
| 3300pF | 0.047uF |
| 4700pF | 0.1uF |
| 6800pF | |
$ 4.40 / 4.00 €uros for each cap
matching a pair: $ 3.30 / 3.00 €uros
burn-in option (48 hours): $ 5.50 / 5.00 €uros
Prices incl. VAT - packing, delivery and PayPal charges will be added additionally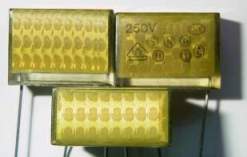 Here is the story of our caps: After buying and trying a lot of the old original Bumblebee and Black Beauty caps it was clear that they really affect the overall tone of a guitar in a beautiful way, hard to find today. But spending approx. $200 for a good pair of old caps for each guitar ? We decided to investigate and research this caps from the bottom and started to collect more of this caps, collect data sheets from the 50's, technical specs and so on ... we even used curve tracers, digital x-ray and other fancy stuff to collect more details about those magical caps. And we did the same with new caps from today and compared all the parameters. After a long chase we finally find a certain cap that is still made the same way as they did back in the 50's. The caps are coming from a highly respected manufacturer, have a 250V rating and are slightly modified for us to be a perfect workalike of the old caps. In a lot of A/B tests with the original stuff we and a lot of other guys couldn't hear any differences so I think it's fair to call this caps a winner. I'm sure the factory never intended to build a Bumblebee workalike but they did. NOTE: The color and the length of the legs can be different from production run to production run, we have no influence on that !
So again and because sometimes people read what they want to read: Our tone caps are new caps that are currently in production and NOT old original, worn out Bumblebee caps from the 50's. Our workalike caps DON`T have the tubular shape like the old Bumblebees, they have the typical modern rectangular shape with short legs (see the pic above). It doesn't make any sense to open the caps to see what's underneath, we use a standard industrial case from the EPCOS/Siemens company to seal our caps, so there is no chance to see the inside of them without destroying the cap.

Hand selected and matched tone caps:
We can offer you a palette of the finest tone caps available for guitars and basses, all of them are hand selected and you can get them as individual pieces, as well as matched sets of any number you want to. We can even match a set out of different cap types to perfectly taylor your individual needs. All available values are in stock, so please let us know what you want and call for a price:
| | | |
| --- | --- | --- |
| Mallory tone caps | Orange Drop tone caps | Hovland MusiCaps |
| SoZo Mustard caps | High Voltage Ceramic disk caps | Solen Fast tone caps |
| Military paper-in-oil tone caps | Mundorf goldpaper oil tone caps | Jensen paper-in-oil tone caps |
| Audiophile MKP tone caps | silver mica tone caps | Styroflex tone caps |
| Alessandro tone caps | Audience Auricaps | stacked metal film tone caps |
| Vitamin Q tone caps | V-Cap teflon film tone caps | Sequa tone caps |
| Roederstein tone caps | NOS military paper-in-oil caps | JJ tone caps |
We have a huge collection of old caps, eg. NOS "tropical fish" caps, original Mustard caps, Black Beauties, Bumblebees, Sprague ceramic disk caps, paper waxed caps etc. If you are looking for something special, please let us know - chances are good that we have something in stock or can guide you to someone else who has.